Are You Searching For A Specialist In
Women's Pelvic Floor Physical Therapy?
The Pelvic Floor Specialists At
Magic City Pelvic Floor Physical Therapy

Want To Know...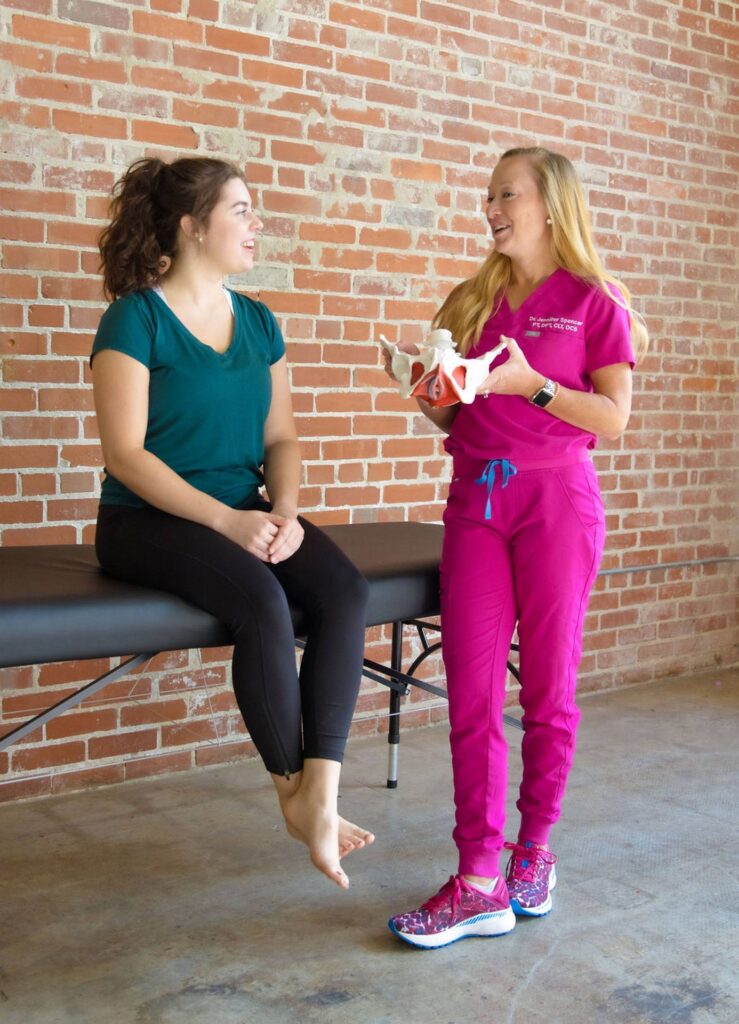 The Pelvic Floor is a complex network of muscles and connective tissue that form a hammock at the base of your pelvis and lay the foundation of your core. The Pelvic Floor works closely with your deep abdominal uscles, diaphragm, hip and back muscles to stabilize the pelvis and spine.
In addition to providing core stability, the Pelvic Floor supports your organs, controls urination and bowel movements, allows for optimal sexual health, aids in blood and lymphatic circulation, and makes pregnancy and childbirth possible. In short, the Pelvic Floor is intricately involved in multiple body systems. This is why Magic City Physical Therapy clinicians take a functional and integrative whole-body approach to Pelvic Health.
Our expert clinicians are passionate about providing transformative care that empowers women to confidently engage in meaningful roles and activities without fear, pain, or embarrassment. Prevention is optimal and recovery is possible. It is never too early or too late to start Pelvic Floor Therapy!
"I highly recommend Magic City PT. Jennifer has been so patient with me while I have been working through severe pain. She has gotten me to a better way of living. She respects my goals in, not only Physical Therapy, but also minimalistic approaches to healing without medicine. She is hands down the best. I honestly was at a loss with no hope of healing until i started PT with her. The staff and office are super supportive in accommodating your time. If you are looking for a better way to heal, I highly recommend Magic City."
Who is Pelvic Floor Therapy For?
Pelvic Floor Therapy is beneficial for any woman who wants skilled and transformative care to navigate:
Pregnancy-related back, hip and pelvic pain
Frequency and urgency of urination
Leaking urine with laughing, coughing, sneezing, or exercising
Incomplete Bladder Emptying
Pelvic Organ Prolapse
Pain or Pressure in the vagina, bladder, or rectum
Painful intercourse
Mechanical Infertility
Interstitial Cystitis
Chronic UTIs
Straining with Bowel Movements
Constipation
Childbirth Preparation/Birth Injury Prevention
Menopaulsal Side Effects
Hip Surgery
Irritable Bowel Syndrome
Bowel Incontinence
Endometriosis
Sacroiliac Joint ain
Tailbone Pain
Pubic Bone Pain
Sciatica
Pudendal Neuralgia
Distasis Recti/DRA
Pelvic or Abdominal Surgery Preparation & Rehab (Hysterectoy, Prolapse Repair, Hernia Repair, etc.)
C-section Recovery
Episiotomy'Perineal Tear Recovery
Post Partum Rehabilitation
Prevention of Developing Pelvic Floor Issues
We Offer A
Unique Hands-On Approach To Your Wellness

Using Our Magic City Pelvic Floor Physical Therapy 3-Step Method:

Look At The Whole Picture, Not Just Where It Hurts
Getting the help you need for your pelvic floor pain and discomfort can be exhausting. There are long waits for appointments, and once you get in there, there isn't much one-on-one time with just you and the provider to take into account all of the information about your pelvic floor problems.
Without that dedicated personal time, many medical professionals can miss important clues that allow them to treat each unique body, history, and type of pain the way you need it most.
That is why our

first step

is to have an open conversation with you and give you enough time to tell us your story.
We know the importance of having personal time for personal issues.
That way we get a deep understanding of what's going on, not just with your pelvic floor, but with your whole body and how it's impacting your life.
Come Up With A Treatment Plan Together
Many times, our patients have exhausted all of their treatment options without success before coming to see us.
That's why we encourage you to share your history with us, along with any past treatments you've tried, so we can come up with the most efficient plan to get you back to your confident, radiant self.
You know your body the best, and you know what has worked and what hasn't worked for you in the past.
That's why we collaborate with you and bring our expertise to the table to create a plan to get you better and live with less pelvic floor pain and discomfort.
Get Back To Being Confident In Yourself And Your Body
Once we have a customized treatment plan, you'll be on your way to achieving freedom from your health issues.
Before you know it…
You'll Feel Confident In Yourself And Your Body
…and be able to enjoy the vibrant, worry-free life you deserve.
Reach out to Magic City's highly trained pelvic floor physical therapists today to begin your journey back to your radiant, confident self.
Want To Get Relief Faster?